You're done with a day of work and study, ready to take out your dab pen and look forward to enjoying it at home. At this point, you notice that the dab pen doesn't seem to be working properly.
RELEAFY will explore common dab pen troubleshooting tips to get your dab pen back to work normally in this article.
The malfunction of the dab pen is attributed to issues with battery power, heat chamber coil, and blockage in the dab pen.
Power of battery
The first point to troubleshoot a dab pen device is to see if the device still has power and can be charged normally.
Here's an example of RELEAFY's Glow 2-In-1enail dab pen. You can judge by the light flashes.
Turn on: Quickly click the button 5 times, it shows 5 light flashes.
Charging: Light breathes in the color of the current battery life.
Fully Charged: Light off.
Short Circuit: 4 red light flashes. If the dab pen shows a short circuit flash, please remove the chamber core and unscrew it to see if the interface is stained with concentrates. If it is stained with concentrates, it needs to be cleaned and screwed back. If it still can't be solved, replace it with another chamber.
Open Circuit: 3 white light flashes. If your dab pen shows this problem, please remove the chamber and screw it back (it is caused by the chamber being screwed too tightly or too loosely)Low Voltage: 10 red light flashes, please connect the dab pen device with power for charging.
Unable to charge: The charging interface may be in poor contact and need to replace with a new device.
Vape isn't producing any Vapor
If your dab pen's battery has enough power and the light flash normally. But it still won't work, the problem may be with your chamber.
Do not overtighten the chamber as it may get stuck where the battery is attached.
A common non-working problem that occurs with dab pens is sometimes that the conductive metal rings are pressed too deep to touch each other due to over-tightening, so users need to use a paper clip to gently pry the metal rings to solve such problems. It is difficult to operate smoothly due to the small ring holes and thin wires.
The conductive design of the RELEAFY Glow 2-in-1 Enail dab pen avoids this complication, all you need to do is screw the quartz heating chamber rationally into the Glow battery body.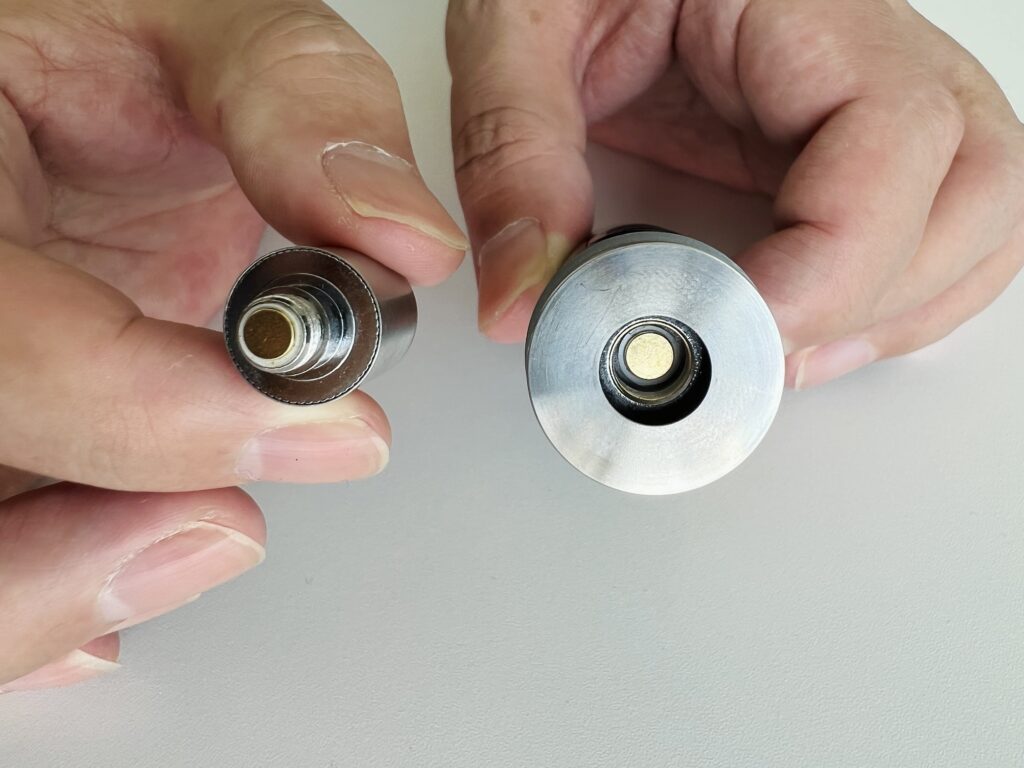 Blocking
The blockage is generally divided into two types of problems: airflow blockage and component blockage.
If you have to inhale hard to get the steam in, or if there isn't any steam coming out of the dab pen, you may need to address a blocked airflow in the dab pen.
How can I prevent the airway of the dab pen from being blocked?
Do not add too many concentrates at once.
Don't inhale too hard when using the dab pen, which works by gently inhaling steam from the mouthpiece. Large airflow can cause leaks and overflows.
Regular cleaning of airways and chambers, using alcohol and a brush.

If the dab pen is turned upside down, residue from the chamber may slowly leak into the elements of the dab pen causing clogging of the device.
So, when you're not using the dab pen, try to keep it as upright as possible. If you've tried all of the above and your dab pen still doesn't work please let it rest for a while, your dab pen battery may be too hot or overworked.
Or you can contact RELEAFY's sales&support team to solve your problems.